Terms and conditions
Who are we?
This website athttps://philipcharles.life (the "Website") is owned and operated by Philip Charles.
In these Terms of Use, references to "we", "us" or "our" means the Website. References to "you" and "your" are to users of our Website.
Application of these terms
Please read these Terms of Use carefully before you start to use this Website. By using our Website, you confirm that you accept these Terms of Use and that you agree to comply with them. If you do not agree, please do not use our Website.
Our Website may contain links to other websites at different web addresses, some of which are owned and operated by our businesses and others which are owned and operated by third parties that are not part of us.
These Terms of Use do not cover these websites. If you access these websites using the links provided, the operators of these websites may collect and use personal information from you in accordance with their privacy policies, which will differ from ours.
Our Terms of Use must be read together with any other legal notices or terms and conditions available on other pages of our Website.
Our websites and services
The information held on our Website and provided in connection with other Online Services is for general purposes and guidance only, does not constitute legal or professional advice and should not be relied on or treated as a substitute for specific advice relevant to particular circumstances.
We do not make any representations or give any warranties or undertakings in relation to the quality, accuracy, completeness or fitness for purpose of the content of our Website or other Online Services. All information provided in connection with the Website and Online Services relates to circumstances at the time of its original publication and may not have been updated to reflect subsequent developments.
Limitation of liability
Except as required otherwise by applicable law, we do not accept any responsibility and shall not be liable for any loss or damage whatsoever, whether in contract, tort (including negligence), breach of statutory duty or otherwise, even if foreseeable, arising under or in connection with:
use of or reliance on any information, opinions, content and/or material held on this Website or made available in connection with this Website: or
interruption or delay in access, use of, or inability to use or access, this Website,
including but not limited to: loss of profits, sales, business, or revenue; loss of data; business interruption; loss of anticipated savings; loss of business opportunity, goodwill or reputation; wasted management time; or any indirect or consequential loss or damage.
To the fullest extent permitted by applicable law, we exclude all conditions, warranties and representations in relation to this Website, whether express or implied.
Except as required otherwise by applicable law, we will not be liable for any loss or damage caused to your information technology, computer programmes, platform, data or other proprietary material arising in connection with your use of this Website.
Account and password
If you choose, or you are provided with a username, password or any other piece of information in relation to your use of this Website, you must treat such information as confidential. You must not disclose it to any third party. We have the right to disable any username and/or password, whether chosen by you or allocated by us, at any time, if in our opinion, you have failed to comply with any of the provisions of these Terms of Use.
Your use of our website
You must not use our Website:
in any way that breaches any law, rule, decree, decision, judgment or regulation, or that has any unlawful or immoral purpose or effect;
to transmit, or procure the sending of any unsolicited or unauthorized advertising, promotional material or similar communications;
to send, knowingly receive, upload, download, publish, post, distribute, disseminate, transmit, use or re-use any material or information which is inaccurate, illegal, defamatory, libelous, obscene, offensive, abusive, hateful, threatening, inflammatory, harmful, infringing, pornographic, discriminatory, indecent, unsolicited, unauthorized, unlawful, objectionable or which may expose you or us to legal action or reputational damage; or
to threaten, harass, stalk, abuse, disrupt or otherwise violate the rights of others.
You also agree not to:
reproduce, duplicate, copy or sell any part of our Website, except as permitted by these Terms of Use;
advertise or sell any goods or services to other users of this Website or to benefit commercially from its content; or
access without authority, interfere with, damage or disrupt, any part of our Website; any equipment or network on which our Website is stored; any software used in the provision of our Website; or any equipment, network or software owned or used by any third party.
If you use a feature of this Website that allows you to upload or post material, or to make contact with other users of this Website, you must ensure that all such contributions are compliant with applicable law and that they do not breach any intellectual property, privacy or confidentiality rights of a third party, or any legal or contractual duty owed to a third party.
We have the right to remove any post you make on our Website if, in our opinion, your post does not comply with these Terms of Use or otherwise within our complete discretion.
The views expressed by other users on our Website do not represent our views or values.
Any material that you upload to our Website will be considered non-proprietary.
We will not be responsible, or liable to any third party, for the content or accuracy of any material posted by you or any other user of this Website.
When you are asked to provide information in connection with our Website, you agree to provide true, accurate, current and complete details. It may not be possible to provide you with the relevant services or information if you do not provide the minimum mandatory information required. You do not have to provide us with any optional information requested. Mandatory information is indicated by the presence of an asterisk.
Viruses and compatibility
We have taken appropriate steps to detect computer viruses but we cannot guarantee that our Website is free from malfunctions, defects, bugs and viruses; or that the Website will operate correctly and as expected, at any given time. We shall not be liable for any loss or damage which occurs as a result of any virus, including without limitation any distributed denial-of-service attack, or other technologically harmful material that may infect your computer equipment, computer programs, data or other materials.
You are responsible for configuring your information technology, computer programmes and platform in order to access our Website and for protecting these with your own anti-virus software, firewalls and any other technical measures. We give no warranties as to the compatibility of our Website with your information technology, computer programmes and platform.
You must not misuse our Website by knowingly introducing viruses, trojans, worms, logic bombs, keystroke loggers, spyware, adware, and/or any other harmful programs or similar computer code designed to adversely affect the operation of any computer software or hardware, or which is otherwise malicious or technologically harmful.
You must not attack our Website via a denial-of-service attack or a distributed denial-of service attack, or in any other way. By breaching this provision, you would commit a criminal offence under the Computer Misuse Act 1990 and you may also breach other applicable local laws.
Intellectual property rights
We are the owner(s) or licensee(s) of all intellectual property rights in this Website, material published on it and material made available through it. Those works are protected by copyright laws and treaties around the world and other intellectual property rights. All such rights are reserved.
Subject to the limited exceptions set out below, neither this Website nor any part of it may be copied, reproduced, modified, publicly displayed, republished, distributed, extracted or reutilized in any form.
You may make copies, print or download material published on this Website or made available through it for your own personal use, provided that you name the author and specify the source where the copy was taken from and you do not modify the paper or digital copies of any material you have copied, printed or downloaded in any way, and you do not use any illustrations, photographs, video, audio sequences or any graphics, separately from any accompanying text.
You may also provide occasional copies of material published on this Website or made available through it, to others, for their personal use only, provided that: you do so free of charge, you do not modify any such copies, any copyright notices remain intact, our status (and that of any identified contributors) as the authors of the material is always acknowledged, your communication of the material is not misleading or inaccurate and you inform the relevant third party that these Terms of Use apply to them.
You must not use any part of the material held on our Website or made available through it for commercial or business purposes without obtaining a license to do so from us or our licensors.
If you print, copy or download any part of the material held on this Website or made available through it in breach of these Terms of Use, your right to use this Website will cease immediately and you must, at our option, return or destroy any copies of the materials you have made.
Website linking
Links to this Website are not permitted
This Website must not be framed on any other website.
Termination
We reserve the right, in our sole discretion, to terminate your access to all or part of this Website with or without notice.
Variations
We may update this Website from time to time, change the content at any time and we may suspend, withdraw, discontinue or change all or any part of this Website without notice. As such, there may be times when this Website is unavailable for use.
Severance
Should one or more provisions of these Terms of Use be or become invalid or unenforceable in whole or in part, this shall not affect the validity and enforceability of the remaining provisions of these Terms of Use. In place of any provisions which are invalid or not incorporated in these Terms of Use the relevant statutory provisions shall apply. In all other cases, the parties shall agree a valid provision to replace the invalid or unenforceable provision which reflects as closely as possible the original economic purpose, provided a supplementary interpretation of these Terms of Use does not have precedence or is not possible.
Waiver
Our rights under these Terms of Use may only be waived in writing.
Governing law
These Terms of Use, their subject matter and their formation (and any non-contractual disputes or claims) are governed by English law. We and you agree to the exclusive jurisdiction of the courts of England and Wales.
Changes of these terms of use
We may change our Terms of Use from time to time. When we change our Terms of Use, we will publish the updated terms on our Website. Please check these Terms of Use regularly. Subject to applicable law, all changes will take effect as soon as we publish the updated Terms of Use, but where legally required to do so, we may take additional steps to inform you of any material changes to our Terms of Use and may request that you agree to these changes.
Contact us [email protected]
If you have any questions about these Terms of Use, or if you would like to receive a hard-copy version of these Terms of Use, you can contact us on: philipcharles.life

Disclaimer
If your personal data is required to process a request (whether provided for our website or via facsimile or in any format) your active participation will be required. The disclosure of your data is voluntary. If technically feasible and where reasonable, all services offered can be used without disclosing personal information or by use of anonymised data or aliases. You will only be asked to enter the data that are required in each specific case. We will handle all data confidentially and will only use your data as permitted by data protection legislation, and for the purpose for which your data is requested. If personal data (such as your name, residential address or e-mail address, or credit card details) need to be saved for a particular information service, your data will only be retained for the time period required to carry out the service or to fulfil the tasks as requested by you and strictly in connection with the data and purpose that were collected. If a service is terminated, or you unsubscribe from an information service (e.g. a mailing list), personal data will be irrevocably deleted after six weeks at the latest.Third parties are prohibited to send unsolicited information to mailing addresses, phone or fax numbers or e-mail addresses published on the imprint page or similar pages.
We reserve the right to take legal action against anyone violating this prohibition by sending so-called spam.
Under the Data Protection Act you have the right to access your personal data held by us and to correct any inaccuracies in that information. Our company is acting in compliance with GDPR and assumes no responsibility for information contained on this site and disclaims all liability in respect of such information
Subscribe to my
free Weekly
Tutorial video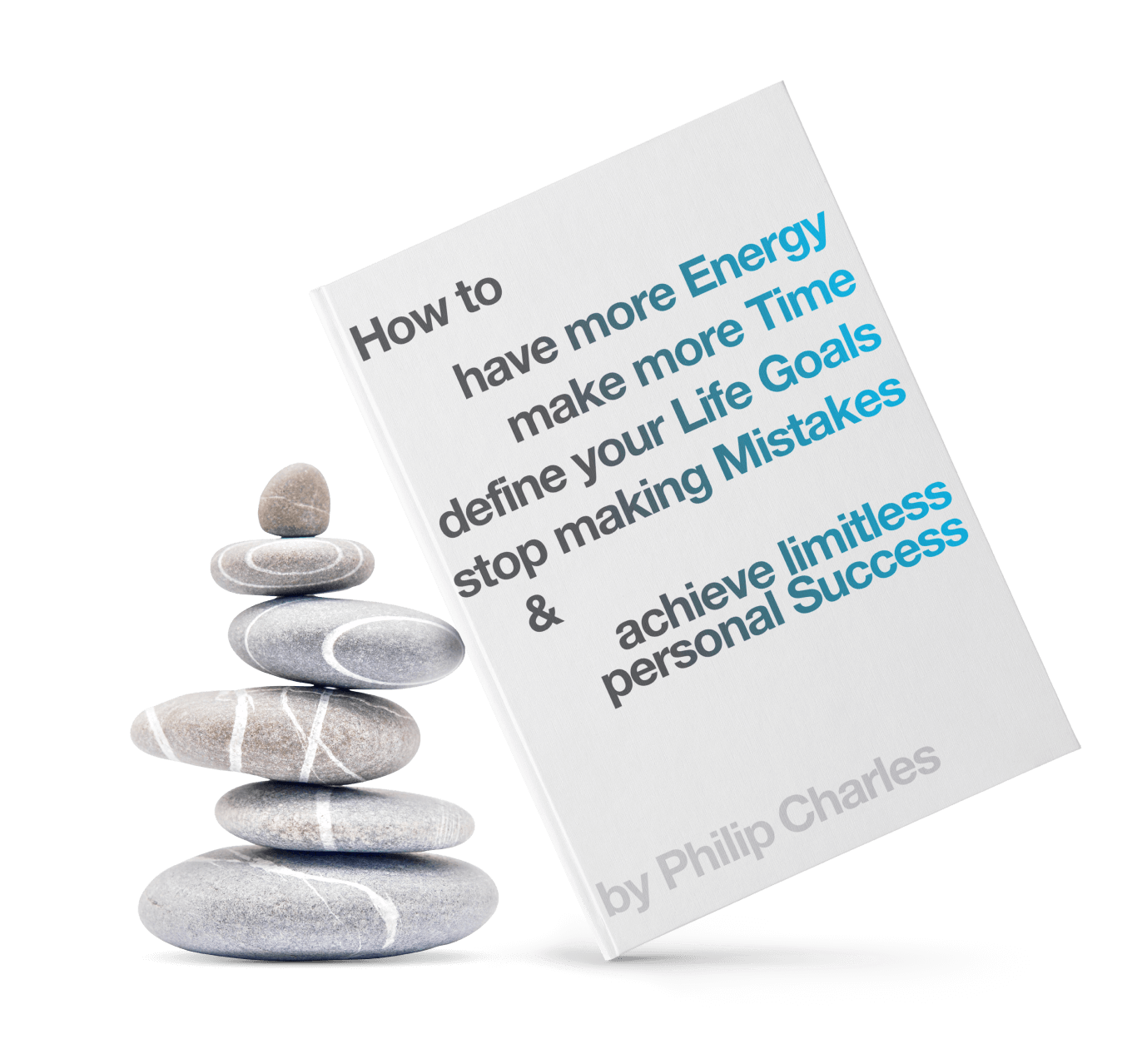 How to get what you want
You have wants, needs, dreams, aspirations. You want something for your life, but you still haven't decided exactly what that is. And you don't know how to achieve the success that you hope for.
This book has been written to solve these problems. This book will tell you precisely 'how to' fast-track your personal growth and development, towards achieving your own specific set of goals.
Thank You for Subscribing!
Ok